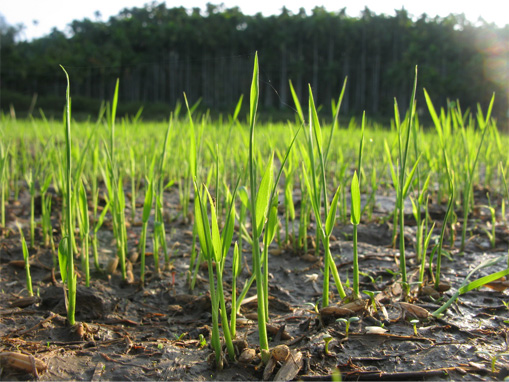 Kerala is bordered by Arabian Sea and there is an extensive network of backwaters, rivers and streams. There are about 34 lakes, small streams, countless backwaters and waterbodies and 49 rain-fed rivers flowing throughout the state. Kerala receives an annual rainfall of 118 inches. All these factors make Kerala abundant in water supply. These helps to facilitate agriculture and so the economy of the state is largely dominated by agriculture.
The staple crop grown in Kerala is the rice or paddy. There are about 600 varieties of rice grown in the paddy fields of Kerala. The Kuttanad region of the Alappuzha district of Kerala is known as the 'rice bowl of the state'. It has a significant status in the rice production. The crop that is grown in plenty next to rice is tapioca. It is cultivated in the drier regions and is a major food of the Keralites.
Besides rice and tapioca, Kerala also produces spices which form the cash crop of the state. Kerala has a spice trade history of about 3000 years. During the medieval period, the fresh aroma of the spices in Kerala has brought many foreigners into our country. 96% of India's national output of pepper is produced from Kerala. The main spices grown here are cardamom, clove, cinnamon, nutmeg, vanilla and turmeric. Cardamom is exported in large quantities and it brings great profit to the country.
Kerala produces various other cash crops such as coconut, ginger, tea, coffee, arecanut, cashew etc. The main source of income in Kerala comes from coir industry, coconut shell artifacts etc.  Coconuts bring most of the economic gains to Kerala. Approximately 70% of Indian output of coconut is produced in Kerala.
Another cash crop grown in Kerala is the cashew. Raw cashew seasoned with salt and spices are a favorite item for all and almost every tourist love to have them.
Kerala also produces 91% of natural rubber of our country. Rubber is grown mainly in the Kottayam district. The other plantation crops grown besides rubber are plantains or bananas. These bananas are of different qualities and they range from red, green and yellow colors.
Lastly, the home gardens in Kerala also grow a large number of vegetables, spices, coconuts and fruits locally.